It's really quite simple. Do you want a sign that reads one single message day after day? Or do you want LED message boards that stand out with attention-grabbing communications that can be updated on a moment's notice to attract the exact consumer you want to target?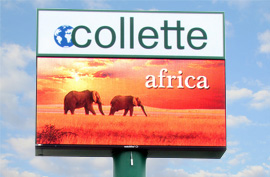 That's exactly what we thought. And that's why LED message boards (also known as an LED Signs or Electronic Signs) are right for you. We like to say we don't sell signs, we sell advertising.
From weekly promotional campaigns to Mother's Day specials, in a continually changing commercial environment, your sign can be nimble and switch gears effortlessly. Mandeville LED message boards work as hard for your business as you do. Why not have a 24/7 sales person telling passing traffic about your trade offerings!
We're experts at incorporating traditional commercial sign displays with the latest LED Message Board technology. Contact our company for your next custom LED message board! Increased foot traffic is a phone call away!!
"Today, we couldn't be more thrilled with our new color LED sign. It has improved our store traffic immensely; especially, with the opportunity to now feature full color branding with all of our weekly promotions with state-of-the-art and easy-to-use program software."
- Joseph Aloisio,
Owner of Mega Liquors